Brand New Clandestine Industries Goodies!
Clandestine Industries is starting off 2009 with a brand new look. They relaunched the webstore with about a gajillion new items that will melt your heart. Check it out on http://clandestineindustries.com/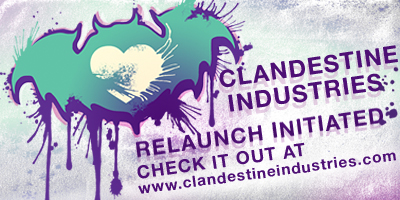 In honor of the relaunch, FriendsOrEnemies.com put together the Crazy Clandestine Giveaway Contest. Enter to win a super special (and not to mention super rare) production sample of a brand new Clandestine Industries T-shirt, signed by Pete! If that wasn't enough, three runners up will have the chance to take home a signed and numbered giclee print from Pete & Travis "Without You I'm Just Me" art exhibit!

New Releases
-
'Church Of Scars'
-
"Stay With Me"
-
"Tip Pon It"